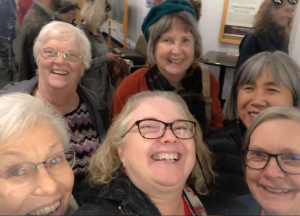 Recap of Branch Programs 2020-2021
We've enjoyed a variety of events under the leadership of our Program Chair, Kelvie Comer.  Since we are an online branch, meeting virtually was not a new experience; however, the expansion of zoom and other technology allowed us to extend our potential audience from members across Washington state and welcome guests from across the nation!
The program calendar included topics that reflect the what we learn as members and friends of an AAUW branch.
Theater: A branch member from North Carolina told us about The Nineteenth Amendment Project History plays by Burning Coal Theater in Raleigh.  These 14 plays seen online led to a stimulating discussion October with the Artistic Director and Chair of the Board of Directors for the Theater October 1, 2020. https://burningcoal.org/the-nineteenth-amendment-project/
Book discussion.  Following the lead of a member who loves Jane Austen, the branch held a discussion Jane Austen's SENSE and SENSIBILITY, both the book and the film, on December 3, 2020.
Public policy education.  With a sister branch in Tacoma, on December 19, 2020, we learned about plans for the 20201 WA virtual legislative session with House of Representatives Speaker Laurie Jinkins.  This program provided an introduction to AAUW WA Lobby Day, 2021.
Sharing stories.  Members wrote and shared personal stories that are meaningful to them.  What a great way, on January 21, 2021, to learn about our members!
Reaching AAUW Strategic Goals.  Two programs were inspired by AAUW's goal of bringing more women, especially of diverse backgrounds, into leadership.
**Naomi Ishisaka the Assistant Managing Editor for Diversity, Inclusion and Staff Development and the Social Justice Columnist for The Seattle Times inspired a spirited discussion of leadership, diversity, inclusion and community development on February 25, 2021. Open to the AAUW members across the nation.
 **Successful women leaders shared their experiences on April 22 with a panel on Intersections and Change: Leadership, Philanthropy, Diversity.  This program was open to the public. Panelists were;
Juliana Horowitz is a social science researcher with a decade of experience in domestic and international survey research. As associate director of research at the Pew Research Center, she regularly presents findings on cross national views of equity, the changing family and racial attitudes. Her work on Women and Leadershipaddresses issues about the advancement of women and is central to AAUW's goals
Melissa Johnsen, a leader in women's health, gender issues and philanthropy, is Board Chair of the Planned Parenthood of the Rocky Mountains Action Fund and Past Board Member of AAUW.
Lauren Thomas has been CEO at Hopelink, a social service agency in Redmond supporting homeless families since 2013. Lauren is deeply committed to community and spent her career alleviating poverty and assuring that the resources were always available to reach those goals.
Book clubs and hot topic discussions are a fun, social way to open a dialogue on women, diversity, and change. Some of our recent activities are listed below:
August 2012:  Balzac and the Little Chinese Seamstress by Dai Sijie
September 2012: Hotel on the Corner of Bitter and Sweet by Jamie Ford
October 2012: The Sandcastle Girls by Chris Bohjalian
Nov-Dec 2012: The Housekeeper and the Professor by Yoko Ogawa
January 2013: Grace and Grit by Lilly Ledbetter
February 2013: Wild by Cheryl Strayed
March 2013: Quiet by Susan Cain
April 2013: Whistling Vivaldi by Claude M. Steele
May 2013: The Orchardist by Amanda Coplin
June 2013: A Small Death in the Great Glen by A.D. Scott
February 2015: Little Bee

March 2016:

The Witches of Salem

by Stacy Schiff

October 2016: Discussion of local elections

Oct 2017:  Book It Theater Production:  

I Know Why the Caged Bird Sings

by Maya Angelou

March 2017:  

Hillbilly Elegy

by J.D. Vance

May 2017: 

Americanah

by Chimamanda Ngozi Adichie

January 2017: Hot Topic Discussion of civility in politics

Jan 2018: Hot Topic Discussion – Diversity and Inclusion, Part 1

March 2018: Hot Topic Discussion – Diversity and Inclusion, Part 2

March 2020: Hot Topic Discussion – Women Candidates
June 2020: General Membership Meeting and Installation of Officers
October 2020: Nineteenth Amendment Project Plays (theater)
December 2020: Public Policy with House of Representatives Speaker Laurie Jenkins
December 2020: Escape to Jane Austen's World of Love, Money, and Long Country Walks
January 2021: Members shared stories
April 2021: Intersections and Change: Leadership, Philanthropy, Diversity
June 2021: The Brilliant Life of Eudora Honeysett book discussion