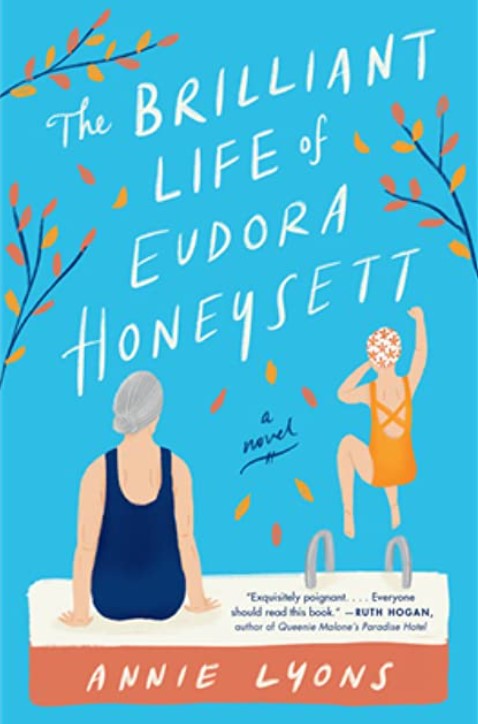 Book Club Meeting on July 22nd at 3:00: Let us know if you would like to join us for a discussion of The Brilliant Life of Eudora Honeysett. We will be sending the link out the week of the discussion.
Infused with the emotional power of Me Before You and the irresistible charm of Eleanor Oliphant Is Completely Fine and Be Frank with Me, a moving and joyous novel about an elderly woman ready to embrace death and the little girl who reminds her what it means to live.
Our Purpose: The purpose of WA Online branch is to connect members from across Washington state to the goals, programs, advocacy and friendship of AAUW.  The Cascade Mountain range divides the state into The West and The East, but geographical barriers do not define us in our commitment to advancing equity through research, education and advocacy.  We bridge the gap with WA Online.  Many of our members join to augment their local branch work with a state wide perspective.  Others appreciate the connection to AAUW without participating in local branch activities.  The Branch has the potential to be nontraditional with a variety of formats for social engagement and educational programs.
LAND ACKNOWLEDGEMENT: AAUW Washington State Online Branch wishes to acknowledge that our branch spans the ancestral lands and traditional waters of many indigenous peoples.  We honor their indigenous cultures, histories, identities and current realities.
A recap of Branch Programs 2020-2021
We've enjoyed a variety of events under the leadership of our Program Chair, Kelvie Comer.  Since we are an online branch, meeting virtually was not a new experience; however, the expansion of zoom and other technology allowed us to extend our potential audience from members across Washington state and welcome guests from across the nation!
The program calendar included topics that reflect the what we learn as members and friends of an AAUW branch.
Theater: A branch member from North Carolina told us about The Nineteenth Amendment Project History plays by Burning Coal Theater in Raleigh.  These 14 plays seen online led to a stimulating discussion October with the Artistic Director and Chair of the Board of Directors for the Theater October 1, 2020. https://burningcoal.org/the-nineteenth-amendment-project/
Book discussion.  Following the lead of a member who loves Jane Austen, the branch held a discussion Jane Austen's SENSE and SENSIBILITY, both the book and the film, on December 3, 2020.
Public policy education.  With a sister branch in Tacoma, on December 19, 2020, we learned about plans for the 20201 WA virtual legislative session with House of Representatives Speaker Laurie Jinkins.  This program provided an introduction to AAUW WA Lobby Day, 2021.
Sharing stories.  Members wrote and shared personal stories that are meaningful to them.  What a great way, on January 21, 2021, to learn about our members!
Reaching AAUW Strategic Goals.  Two programs were inspired by AAUW's goal of bringing more women, especially of diverse backgrounds, into leadership.
**Naomi Ishisaka the Assistant Managing Editor for Diversity, Inclusion and Staff Development and the Social Justice Columnist for The Seattle Times inspired a spirited discussion of leadership, diversity, inclusion and community development on February 25, 2021. Open to the AAUW members across the nation.
 **Successful women leaders shared their experiences on April 22 with a panel on Intersections and Change: Leadership, Philanthropy, Diversity.  This program was open to the public. Panelists were;
Juliana Horowitz is a social science researcher with a decade of experience in domestic and international survey research. As associate director of research at the Pew Research Center, she regularly presents findings on cross national views of equity, the changing family and racial attitudes. Her work on Women and Leadershipaddresses issues about the advancement of women and is central to AAUW's goals
Melissa Johnsen, a leader in women's health, gender issues and philanthropy, is Board Chair of the Planned Parenthood of the Rocky Mountains Action Fund and Past Board Member of AAUW.
Lauren Thomas has been CEO at Hopelink, a social service agency in Redmond supporting homeless families since 2013. Lauren is deeply committed to community and spent her career alleviating poverty and assuring that the resources were always available to reach those goals.
BECOME AN AAUW ACTIVIST!!!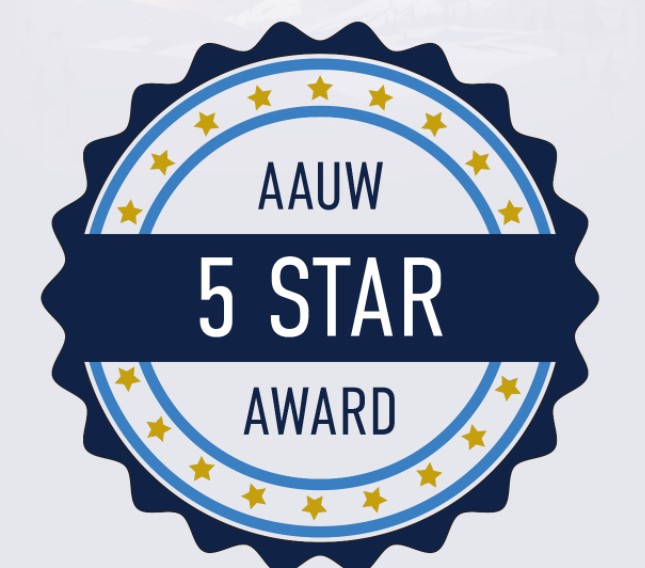 Lobby Day in Washington State may be over, but AAUW members have resources to be involved in policy issues all year long through the AAUW TAKE ACTION website.  https://www.aauw.org/act/
Whether it's learning about national issues pertaining to equity that AAUW is following, such as the Paycheck Fairness Act or the effort to raise the minimum wage to $15.00 an hour, or discovering the pay gap in Washington State, you'll find the information there.  Take a deep dive into the substance of an issue, or review AAUW's policy priorities.  And you can have your say as well by signing up for the Two Minute Activist; the AAUW policy newsletter or text AAUW to 21333 for text alerts!  You can also contribute by donating to the Action Fund which supports all AAUW's advocacy efforts on behalf of equity for women and girls.
About AAUW Washington Online Branch
The Washington Online Branch is an affiliate member of AAUW—our tenacious and trailblazing parent organization that has been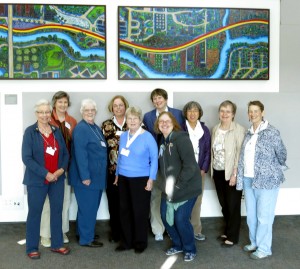 advocating for women and girls since 1881!  In 2018 AAUW renewed that commitment with a bold strategic plan.  This plan guides not only AAUW but all its branches—like WA Online—as we put together programs, plan activities, and advocate for public policy.
Our MISSION: To advance gender equity for women and girls through research, education, and advocacy.
Our VISION:  Equity for all
Our VALUES: Nonpartisan; Fact-based; Integrity; Inclusion and Intersectionality
How to realize the vision?  Through four Strategic Areas of Focus:
1.  Education and Training: Addressing the barriers and implicit biases that hinder advancement of women by promoting equal access at all levels of education and, through Title IX, ensuring that every level of education is free from sex discrimination.
2. Economic Security: Ensuring livelihoods for women through real pay equity, inclusive career pathways, and adequate retirement security and quality of life.
3. Leadership: Closing the gender gap in leadership opportunities by empowering women throughout their lives and advancing women to leadership positions especially in education and nonprofit organizations.
4. Governance and Sustainability:  Ensuring the strength, relevance, and viability of AAUW well into the future by following best practices in governance and inclusion and enhancing financial sustainability through fundraising and expansion to new audiences and populations.
These Strategies and Goals inspire us as we plan for branch programs, projects, and advocacy.    Let's think about pay equity.  The Plan's goal is to achieve pay equity by 2030. That is certainly ambitious.  But achievable by extending skills in salary negotiation to more women and their employers. That's where Work Smart comes in.  AAUW aims to train 10 million women in negotiation by 2022.  Work Smart is a free online course open to anyone and it takes less than 2 hours to complete. The course teaches how to find the target salary you deserve, given your education, skills, and experience, and how to gain the confidence and the right words to negotiate for better salary and benefits.

AAUW's Equity Network can be found here.
Two Minute Activist
Have you signed up for AAUW's Two Minute Activities? Did you know that it sometimes has state lobby campaigns and local activism? Sign up today to make a difference!
WA ONLINE: A FIVE STAR BRANCH!
AAUW's Five-Star National Recognition Program rewards affiliates (states, branches and other organizations) for aligning their work with the AAUW strategic plan and other initiatives that foster the organization's mission of advancing gender equity for women and girls. The program will run from July 2019 through June 2021.
Branches earn stars for
1. Programming that promotes strategic plan goals of equity, economic security, leadership.
2. Advancement through financial donations for greatest needs of AAUW
3. Communications that has economic security focus and publicizes Work Smart Online
4. Public Policy and Research by direct advocacy with a U. S. Representative or State Representatives
5. Governance and Sustainability through a succession plan
Washington Online has earned a star for Programming, Advancement, Public Policy, Programming and Governance and Sustainability.
More About AAUW
AAUW's Mission
To advance gender equity for women and girls through research, education, and advocacy.
AAUW's Vision
Equity for all
AAUW's Values
Nonpartisan; Fact-based; Integrity; Inclusion and Intersectionality
Brochure for AAUW Online full color
2020-2021 Officers List:
Presidents:

Dorothy McBride and Carolyn Hayek

Secretary: Ellen Imsland
Finance: Florence Vining
Communications:  Mary Letterman
Do you want more information? Please contact waonline@aauw-wa.org.
Brochure for AAUW Online full color