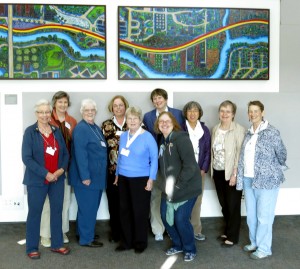 The American Association of University Women (AAUW) empowers women and girls through advocacy, education, philanthropy, and research. Our nonpartisan, nonprofit organization has more than 170,000 members and supporters across the United States, as well as 1,000 local branches and 800 college and university partners. Since AAUW's founding in 1881, our members have examined and taken positions on the fundamental issues of the day — educational, social, economic, and political. Our branch includes members from across the state of Washington who want to associate with others working for equity for women and girls.
AAUW's Mission
AAUW advances equity for women and girls through advocacy, education, philanthropy, and research.
AAUW's Value Promise
By joining AAUW, you belong to a community that breaks through educational and economic barriers so that all women and girls have a fair chance.
AAUW Washington State's Brochure
Brochure for AAUW Online full color
Pictures: left to right, top to bottom. 2013 Board Meeting, Jim Dunkelberger, 2012 Board Meeting, four members of online book group that attended Book-It Theater's production of Hotel on the Corner of Bitter and Sweet, three photos of Washington State scenery and two Tech Trek campers that came to a recent All Members Meeting.
2016-2017 Officers List:
Presidents  Ann Dennis, Seattle and Mary Letterman, Tacoma
Secretary Constance Dunkelberger, Tacoma
Programs  Florence Vining, Browns Point
Finance  Carolyn Dorothy McBride, Tacoma
Communications  Mary Letterman, Tacoma
Do you want more information? Please contact waonline@aauw-wa.org.
Brochure for AAUW Online full color